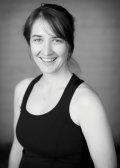 In brief: Stella is a certified Holistic Health Coach, 500hr Yoga Teacher, a Music Industry Publicist by day and also the co-founder of TwentyOne Days - inspiring ecourses and workshops to help you bloom, connect and thrive.
The fine print: The simple truth of it all is that I just love yoga.
I love how it makes me feel, and I love how it makes me happy and bright. I love that it has made me feel ok with wearing fitted yoga pants out in public because I'm so damn proud of the power of my body to move and stretch and glow.
But I never intended to be a yoga teacher - even when I did my first teacher training all those years back, I never wanted to teach. That wasn't the plan. The "plan" was to learn about the history, to read the books, to uncover what it was about the practice that made me feel so darn good after doing it. But the Universe had other plans for me. And for that, I'm grateful. Because now I get to feel good, and help others to feel all happy and shiny as well.
I first came to yoga over 15 years ago, and way back then it was a sporadic practice to say the least, with no real commitment or passion. But that all changed in my early 20s when I moved to Sydney and started battling with major and severe depression. At this time I discovered $5 community lunch time classes at the local yoga studio and these classes seriously changed my life.
I spent the first few weeks of those classes literally sitting in child's pose and crying throughout it all. But then I started breathing deeply... and moving... gently, slowly, lovingly. These classes were the beginning of me coming back to me.
There was no judgement, just acceptance. There was no expectation, just love.
For the kind touch of those teachers as they assisted me in savasana, I will be eternally grateful.
Yoga bought me back to a life worth living, and I fell in love with the practice. And here I am, many years later, with a vibrant life that makes me shine from the inside out, in no small part due to yoga.
Yoga changed my life. And I know it can do the same for you. I can't wait to see you on the mat.
Q & A
Birthplace
Brisbane Qld
First yoga class
My mum and I did a 10 week community college course – I showed up in socks, and practiced on a towel!! My mum stopped at the end of 10 weeks, but I was in love :)
Favourite yogic principle
Metta Bhavana – loving kindness, to one's self and others. The universal truth is that our actions either come from love or fear, and I'm constantly reminding myself to act from love. Beautiful right?
Most inspiring teacher
There are so many teachers who shaped my journey, but I must mention the first teacher who encouraged my practice, and who I did my first teacher training with – Katie Manitsas. I had no desire to become a yoga teacher, but was in love with the deep history of it all. After completing my training with Katie, there was no turning back! She set me on a path with her passion and insight.
Mark Breadner & Tanya Halliday from Yoga Coach, my 500 hour teachers, also were instrumental in deepening my yoga therapy teaching and without a doubt helped my self-love and confidence bloom.
Favourite yoga book/CD/DVD
One of the first books I read about yoga was Spiritual Survival in the City by Katie Spears I read, which opened me up to the idea of the 8 limbs. This book put into words what I was starting to realise – that yoga is so much more than just a physical activity we do on the mat.
I also have a well-thumbed copy of Eat Pray Love, with some beautiful sentiments in it. And I must mention The Gifts of Imperfection by Brene Brown, not a 'yoga' book per se, but a book on self-love and living to our full potential.
I adore Yoga Glo for at home yoga practices, and for music I love Garth Stevenson, At Ease, and lots of self-collated mix tapes!
Biggest challenge on the mat
Lately it's been simply showing up and really listening to my body!
I burnt out – body, mind and soul – a few years ago, and adrenal fatigue has been a close companion ever since. While I'm getting better every day, my practice really had to change. I was a strong vinyasa girl, but more and more I'm finding the healing powers of yin yoga and meditation. I still love busting out a strong vinyasa class now and then, but I've learnt to really listen to my body and to understand when a strong practice would serve or be of detriment to my body.
Biggest challenge off the mat
As mentioned above, the practice of self-love and acceptance for me has been a big challenge! I am great at juggling many things at once, and used to wear my 'busy-ness' as a badge of honour, when in reality, it was a distraction from being present.
I would always put myself last, after others, believing I was being of service. But I've come to realise that putting others on a higher pedestal than yourself is not coming from a place of self-love at all. So showing up in LOVE is the never-ending off the mat lesson!