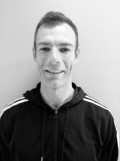 I came to Yoga pretty late and I vividly remember my first Yoga experience being quite underwhelming. It involved a teacher wearing baggy pants in a tiny room asking me to do weird things with my body that I couldn't do. I wasn't drawn back by that experience, so my yoga journey went on the back burner until one day, when walking through Rozelle, I saw something about Bikram Yoga. I can't remember what was happening in my life at that time, but I must have been of looking for "something" because it caught my eye and I decided to give it a go. I bought my 10 day pass for $20 and committed myself to going six times over the ten days. I pretty much loved it straight away, mainly because it was so damn tough. I was a pretty sporty person and really appreciated the physicality of it, but it also opened up a little peep hole into a mind/body connection which I had never known existed before.
I quickly established a regular Bikram practice which had me feeling great and completely cured my knee pain and restriction I had from two knee reconstructions. At some stage my studio at Rozelle started offering Power Yoga as well as Bikram and so I gave it a go and enjoyed it right away.
During my time as a student I was drawn to learning as much as I could about my practice. I trained and practised with Baron Baptiste, Bryan Kest and Noah Maze. I eventually completed my 200 hour official teacher training in May 2012. I have been teaching ever since and have taken part in further teacher training with Les Leventhal, Chanel Luck, Simon Park, Noah Maze, Christina Sell and Ana Forrest.
Q & A
Birthplace
Darlinghurst, Sydney.
Favourite yogic principle
Breathe.
Most inspiring teacher
Bryan Kest.
Favourite yoga book/CD/DVD
The Untethered Soul.
Biggest challenge on the mat
Doing less.
Biggest challenge off the mat
Doing less.