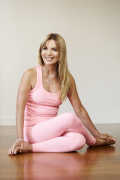 When you come to a class or workshop with Tamara regardless of how many other students are there, you'll feel as if it was just made for you. So many students have said after class, "How did you know that's just what I needed? It's like you see into my soul." You will learn how to translate the teachings of yoga directly into your life transforming you into your happiest, best, most authentic Self. Get ready for a whole mind-body spirit workout, for the experience of real yoga. When you leave Tamara's class you'll feel as though you've had fitness, strength and flexibility training, a massage and deep meditation all rolled into just one hour and fifteen minutes! You will feel energised, vibrant, peaceful and clear, more resourceful, wanting to come back, planning your next class time. Tamara's love of yoga and enthusiasm for teaching is infectious; you will be inspired to realize the goal of yoga, enlightenment. 
Tamara's mother introduced her to yoga as a child and she began practicing meditation in 1986. After qualifying as a special education teacher she began teaching yoga as a part of the school day in 1991. Tamara is able to pace the class to suit multiple levels and abilities so that everyone regardless of age, experience or background feels welcomed, supported and challenged.  Tamara has extensive experience teaching students with needs as varied as New York marathon runners to fellow yoga teachers to high profile clients like Donna Karen, as well as busy CEO's and medical specialists. From 1998 – 2004, Tamara taught group and private yoga classes for both adults and children in New York.  Tamara has studied with many internationally renowned yoga teachers.
While living in the U.S., she studied with Yogiraj Alan Finger of ISHTA Yoga and received Yoga Alliance certification in the ISHTA system of yoga.  Since moving to Australia and establishing the thriving Tamara Yoga schools in Perth, Tamara has travelled back to New York to undertake further one to one studies with Alan Finger. Yogiraj Alan initiated Tamara to transmit Shaktipat- the transference of spiritual energy to assist meditation and the experience of highest consciousness. Tamara is honoured to represent ISHTA Yoga in Australia.
Tamara is an E-RYT 500 Registered Yoga Teacher with Yoga Alliance and Senior Teacher with Yoga Australia. Tamara runs three tracks of Yoga Teacher Training and Postgraduate Training recognised nationally by Yoga Australia and internationally by Yoga Alliance.