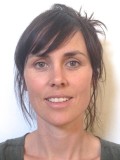 I met Rob when I went to the studio my brother Hugh had been talking about. To be honest, it took me quite a while to get past my own reservations about spirituality and be truly present at one of Rob's classes. But I kept coming back. Maybe because there was something very appealing about learning to make quiet the deafening chatter of the mind, or maybe because I simply felt good after each of Rob's classes.
I come from a background of fine arts. In '97 I completed an undergraduate degree in Sculpture at VCA and in 2001 a Masters at RMIT in Art in Public Space. I have spent much of my time pursuing an art practice and working in community arts. In 2004 I became a secondary school art teacher, and have loved working with young people on a daily basis. By the end of my first year of teaching, I became acutely aware that something major had to shift in terms of retaining and managing my own energy levels. Strengthening my yoga practice ensured my life was more balanced. The studio and Rob's teachings have provided me with much insight, which has helped me live a richer and more peaceful life. I have been able to reflect on how tired I was and how life just isn't set up for us to rest or slow down. In 2013 I became a mother and this has changed, strengthened and expanded my yoga practice, as it has my life in general.
Teaching at Yogareal has been a challenging and profoundly rewarding experience. I have had the opportunity to teach various classes, including prenatal yoga and yoga for secondary students. These classes have allowed me to draw on my personal experiences and integrate them into my teaching. It is important to me that my approach to teaching is honest and people can relate to what is being taught.