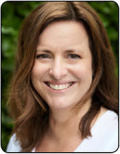 Fiona's Beginners and All Levels classes are meditative and deep, blending softness and strength. You'll be challenged, not to push harder, but to let yourself surrender to the depth yoga practice can bring. During her Restorative classes you'll experience total relaxation and rejuvenation.
Yoga is a passion, a medicine and a way of life for Fiona. After a number of careers in the corporate, education and the not-for-profit sphere and multiple university degrees she decided to throw logical career decisions to the winds and follow her heart into Yoga Teacher Training. "In many ways it is the most unlikely move for me. I had worked so hard to develop a career that was entirely based on rational commercial leverage of what I thought were my best assets… yet I always had a feeling that I had not found my place in the world. When I gave myself permission to stop and truly look at what I was passionate about, it was yoga and helping people who are struggling with the pressures of life, like I have."
 Fiona loves teaching yoga and gets great joy out of connecting with students and seeing them glow from yoga.
Contacts Tamara Yoga Bibra Lake