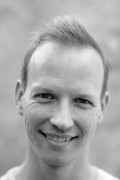 Jan believes that yoga is a healthy challenge that enriches and explores each individual's inner strength by training their body, mind and soul. His way of teaching is down to earth, open, practical and friendly in approach in which the most important intention is to experience the joy and pleasure of yoga.
After finishing a four year teacher course of Hatha yoga, Jan started teaching yoga in 2007. After that he studied Kids' yoga. His ever-growing enthusiasm to learn more about yoga and alignment brought him to Ashtanga and in 2010 he completed a 300-hour teacher training Ashtanga Vinyasa Yoga. In finding his true path in yoga and becoming an inspiring teacher, he loves to be inspired by his students and other teachers like David Swenson, David Williams and Sarah Powers.
Jan loves the combination of the warming 'physical' flow of Ashtanga and the calm approach of classical Hatha yoga. It is a challenge for him to seek and find the perfect balance between these two.
Jan says, "Yoga is like a rough diamond. To recognise its true perfection and imperfection you have to view it from all sides. Hold it against the light to see that every ray of light presents different shapes and angles to the diamond. But without light you see nothing and the diamond is just a hard, cold stone. In yoga I hope to offer every individual diamond its true glow and depth, and the experience of that peaceful feeling of joy, pleasure and life."
Q & A
Birthplace
Hengelo, The Netherlands
First yoga class
It must have been 1999 in a small community centre near my house in Amsterdam. It was a power yoga class. Willem, the teacher, taught me to be patient in the practice and that all will come in time.
Favourite yogic principle
Move and live from the heart and all is well.
Most inspiring teacher
There are too many to mention. Each and every one of my teachers is an inspiration to me. They each help me complete and grow further every time I practice with them.
Favourite yoga book/CD/DVD
Has to be David Swenson's Ashtanga series.
Biggest challenge on the mat
Not to want, but to be.
Biggest challenge off the mat
Finding a healthy balance between love, life, work and yoga.