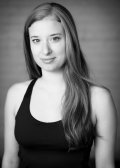 Gaby's yoga journey began nearly a decade ago in her hometown of Vancouver, Canada. She turned to yoga after many years of being a competitive gymnast, and instantly found great joy in a consistent practice. After moving to Sydney, Gaby completed her first 200 hour yoga teacher training followed by Pregnancy Yoga Teacher Training. Her other passions include languages (she's an accredited translator) and getting her hands messy with creative projects.
Gaby has been blessed to study with amazing teachers including Sharon Gannon, David Life, Mother Maya, Katie Manitsas, Jasmine Tarkeshi, Will Lau, Jeffrey Cohen, Andrea Boyd, and Jessica Sage Stickler. Inspired by her teachers, Gaby teaches dynamic vinyasa yoga accompanied by an upbeat and eclectic soundtrack. Her warmth, humour, bubbly personality and passion for practice come through in her classes.
Q & A
Birthplace
Vancouver, Canada
First yoga class
I don't remember it very well – but it was definitely a gym yoga class in Vancouver.
Favourite yogic principle
Ahimsa – non-violence
Most inspiring teacher
Such a hard question to answer, but I love Jasmine Tarkeshi from Laughing Lotus Yoga.
Favourite yoga book/CD/DVD
An Offering Of Leaves by Ruth Lauer Manenti.
Biggest challenge on the mat
Rolling out my mat! Seriously, I often think that the hardest part of practicing yoga is having the discipline to roll out your mat and practice. Especially at home.
Biggest challenge off the mat
Procrastinating (though Craig says it's my inability to answer this question).